M.S.G HEAVY WEAPON UNIT30 ACTIVE MINE
M.S.G HEAVY WEAPON UNIT30 ACTIVE MINE
M.S.G HEAVY WEAPON UNIT30 ACTIVE MINE
This product is a set that includes 6 active mines and one storage container. The sensor part of the active mine is made with clear green plastic and has a design that even looks adorable when displayed as a small-sized mecha. Each part uses 3mm joints that are compatible with other products such as Frame Arms and Hexa Gear.
Customer Reviews
Write a Review
Ask a Question
11/01/2021
Matt J.

United States
Interesting set, really unique pieces (I love it)
This MSG set (Active Mine) is, in my opinion, really cool and unique compared to the other sets you can buy. The mines come with clear pieces, little fold-out-able "wheel" feet things, and they're fairly substantial. The cylindrical case that holds the mines is stable and can be closed. My favorite pieces are the pivot hinge pieces that connect the mines together - I'll be using them for something else, but I'm glad I bought this set for everything that's included.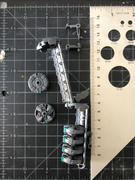 General Safety Warning: Products may contain sharp points, small parts, choking hazards, and other elements not suitable for children under 12 years old.