Kojima Productions Ludens Model Kit
Kojima Productions Ludens Model Kit
Customer Reviews
Write a Review
Ask a Question
Filter Reviews:
idea
course
runner
sculpt
place
grade
star
box art
hands
shelf
06/11/2020
James H.
United States
A great kit! especially if you are a fan of kojima!
the kit is quite solid and the colour separation is on point. the only thing you should paint is the lining around the torso's front and the hands and they should be in black. the staff and flag look great and while my kit's hands kind of cant hold it at odd angles, it is nothing major. the build was fun too, and was not very complicated. overall great kit.
JM
06/01/2020
joshua m.
United States
Fantastic design, underwhelming engineering, great overall
I can honestly say I've been spoiled. This was my first non-Bandai kit, and as much as I absolutely love the design, I have nitpicks: -The joints are tight. Like, too tight. It feels like I'm going to break it, which I actually did while building (be careful with her neck!). You can call it user error if you like, but I know how to be careful with a kit, or at least thought I did. -So many runners. I'd seen videos by Bandai advertising multicolor runners as a major selling point, but had no idea why anyone would care until now. If it's a different color on this kit, it's a separate runner. Makes for a less smooth building experience. -The holding hand for the mask is the same one used for the spear, and it fails for this purpose entirely. The mask just falls out. So I took the mask and superglued it to one of the relaxed open hands. Not only does it stay in place, but it more closely resembles the box art. Just sucks that I had to do it at all. - I can buy a Real Grade for $30 and not have to paint anything on it. This kit is $70, and is going to need a nontrivial amount of work to really make it look good. Again, Bandai has spoiled me. These issues are honestly par for the course from what I understand. They aren't even worth knocking a star off. The sculpt is amazing, the design is amazing. It's only failing as a kit is not having been made by Bandai. Maybe it's the moe talking, but as frustrated as building it was, as nervous as I am about posing/detailing it, once it's on the shelf, I can't help but recommend the kit.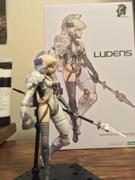 General Safety Warning: Products may contain sharp points, small parts, choking hazards, and other elements not suitable for children under 12 years old.
Authenticity
100% Guaranteed