Caster Nero Claudius "Fate Grand Order", Bandai Petitrits
Caster Nero Claudius "Fate Grand Order", Bandai Petitrits
Caster Nero Claudius "Fate Grand Order", Bandai Petitrits
The birth of Petitrits, a new brand featuring Petit sized kits imbued with Spirits! A wide selection of popular, fequently used and surprising servants from Fate Grand Order will be recreated in petit or deformed sizes!   Cute and stylish, the Petitrits model figures features articulation in the upper body while maintaining a smooth look for the lower body that preserves the sculpt.  Umu?  The scorching Summer!  Let's enter a stage of Passion!  Caster Nero features her Noble Phantasm Laudă Lentum Domus Ilusterias (Golden Theatre Praised in Song), a powerful pipe organ weapon which can be mounted on 2 clear support stands.  Also includes sword.  Runner x 2, stickers, display stand,  instruction manual.
Customer Reviews
Write a Review
Ask a Question
01/08/2021
Gabby

United States
I love her so much!!!
This was so much fun to put together and absolutely adorable. It's been nice to come home from work and work on a teeny easy kit to decompress after a long day. She's beautiful and the quality is amazing. I can't wait for more to come out so I can build them and have so many that I'll need a bigger desk!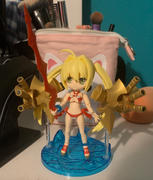 General Safety Warning: Products may contain sharp points, small parts, choking hazards, and other elements not suitable for children under 12 years old.