Ultrafine Diamond File Square 0.6 x 0.5 #400
Customer Reviews
Write a Review
Ask a Question
Filter Reviews:
desk
surfaces
anything
round
grit
corner
areas
files
sand
complaint
05/19/2021
SEAN H.

United States
Amazing files for detail work!
These things are expensive but worth it if you need to do detail work on a model kit of 3D print. It's basically a sewing needle covered in diamond dust. (0.5, think mechanical pencil lead.) I haven't found anything this size to sand with. They are a little delicate and usually eventually break from me accidently dropping them/rolling off the desk, or eventually just snap from the sideways pressure from sanding. But there's nothing else I've found thin enough to do the sanding work I need in tight areas or crevices. And they do last a decent while, as much as you can expect any sanding material to last. I've got some 3D printed garage kits to put together and I couldn't get out all the print lines without these. The only complaint is I can't buy just the file part themselves in bulk of cheaper because at this point I have more than enough grips for these things and I know they sell the files just on their own, but this is honestly the best price I can find for them in the U.S. And that's even looking on Japanese pages that might ship to the U.S. But I typically already buy them 4 at a time to save on shipping. Oh, also, there's the 400 and 600 grit versions, and square and round. The square is good for where you need to sand right angles in the corner of things, but most of the time I use the tip of the round, even for flat surfaces. And I use the 400 grit mostly because it's better at removing material and rarely need the 600 for finishing a surface. 400 is already pretty fine.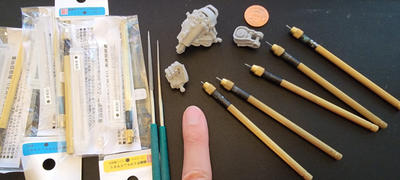 General Safety Warning: Products may contain sharp points, small parts, choking hazards, and other elements not suitable for children under 12 years old.