Gundam Fix Figuration Metal Composite MS-05S Char Aznable's Zaku I
Gundam Fix Figuration Metal Composite MS-05S Char Aznable's Zaku I
Gundam Fix Figuration Metal Composite MS-05S Char Aznable's Zaku I
Customer Reviews
Write a Review
Ask a Question
04/15/2021
Just c.

United States
03/12/2021
Patrick L.

United States
Bang for Your Buck
If you're into collecting figures definitely get this before it sells out. It's my second fix figuration that I've bought. It's PACKED with accessories. There's diecast metal all over this figure that gives it a really great feeling in hand. The articulation on this line is great as usual. It's basically a metal build minus the outward design aesthetic of the metal build line. If you're thinking about getting into figures that are at a higher price point this is definitely a good jumping off point.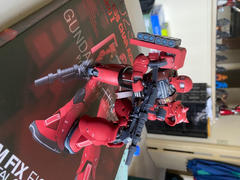 03/08/2021
hxjnz

United States
Incredible quality!
This is my third metal composite figure and I cannot say enough good things about it. The quality and detail is insane. The metal frame gives all these figures a satisfying, solid feeling (they feel like 6-7 times heavier than a Master Grade plastic model) and makes it so the figure holds any pose you want. It's extremely articulated too, parts of the armor slide around to accommodate dynamic poses, the joints can hyper extend while at the same time staying tight. Lots of naturalistic hand poses are included as well as multiple accessories - bazooka, two machine guns, ammo packs, an activated and non-activated heat hawk, and an action base. These really are some of the best Gundam figures of all time, they're pricey but the quality is unmatched. Also check out the Zaku II, it's magnificent!
General Safety Warning: Products may contain sharp points, small parts, choking hazards, and other elements not suitable for children under 12 years old.