When you order 2 HG kits you get a Free builder part!
Limited Edition Weapon Parts
When you collect the limited edition weapon parts you can equip them in several ways at once. The parts are suitable for customising your Gunpla model kits across the HG series including the HGUC RX-78-2 Gundam, Mobile Suit Gundam: Iron-Blooded Orphans, and Mobile Suit Gundam Unicorn.
Campaign Features
You'll receive one of the eight available weapon parts when you buy an HG series Gunpla model kit at a participating store whilst the campaign is running. You can equip the weapons with the various kinds of joint parts included to customise your favourite model kits and give them your own individual spin.
Limited Edition Parts
Phase 1:
A: Gatling Long Rifle
B: Buster Feder Rifle
C: Gatling Claw
D: Heat Assault Shield
Phase 2:
E: Blade Beam Gun
F: Pile Breaker Launcher
G: Sword Beam Machine Gun
H: Backpack Cannon Arm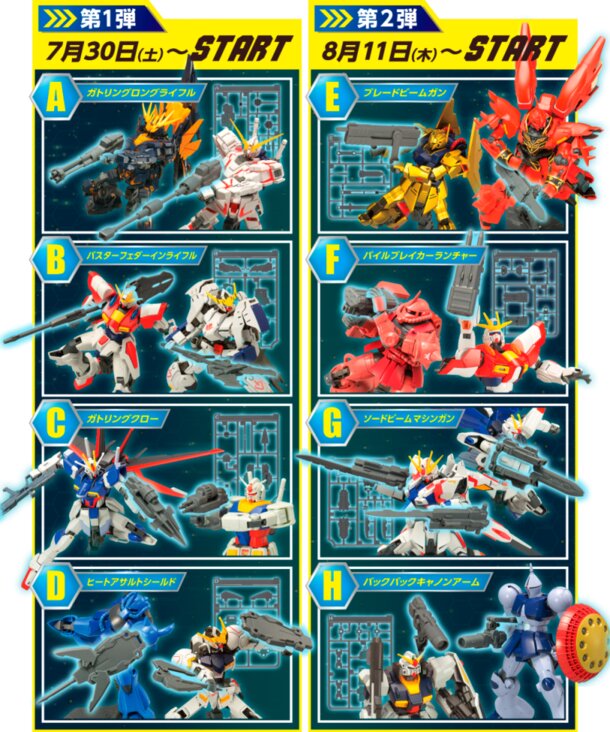 Limited edition parts (Gundam body not included)
Applicable Models
Gunpla HG Series: HGBC, HGPG, HG IBA MS option sets, HG 1/44 series